Michael Thompson's Australian Storm Chase Diary
12th March 1999 - Southern Highlands, New South Wales.
COPYRIGHT: All photos on this and my other pages are copyright. However use for any non-profit purposes can be had in most instances by simply E Mailing first. Please note that photos have been compressed to aid quicker web viewing. Original prints are of better quality.
---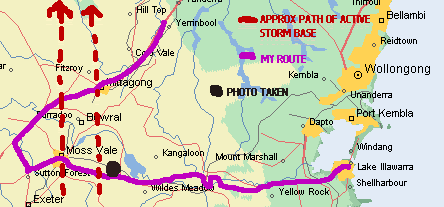 I had almost forgotten what they look like. The 1998-99 storm season in the Sydney and Illawarra areas of New South Wales had been one of the weakest on record. It was not that severe storms were not occurring this season, 800 kms ( 500 miles ) further south in Victoria they were having a bumper season.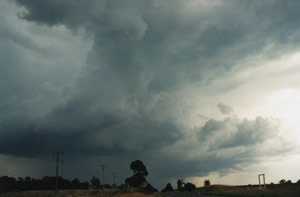 Friday 12th March 1999 saw a trough that had been active in southern New South Wales edge just a little further towards the coast. At 1.30pm I noticed one of the congestus towers on the southern highlands had glaciated, it looked weakish, but I was desperate, so I hit the road. Once up the notorious Macquarie Pass and past the village of Robertson I got my first decent views of the storm rear end. I was surprised to find that it was quite low and still actively updrafting. I pulled over at approx 2.40pm just past the Fitzroy Falls turnoff on the Illawarra Hwy, a few nice CG's were coming from the northern flank. I decided to press further westwards through Moss Vale, my plan was to then turn NE after connecting with the Hume Hwy and thus getting to northern flank. Moss Vale at 3pm and it was pouring with rain and CG's were active, worse still was every mother had decided their little darlings of all ages needed a lift home from school, it took me over 15 mins to get through what is normally a sleepy little town.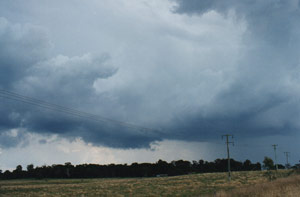 Next stop was as soon as I got clear of the rain, this was at Sutton Forest at 3pm, I rolled some video, the storm base was so-so at the rear end, but right over my head was a lovely backshearing anvil ( as per Michael Bath's observation from Parramatta ). The storm here was now becoming outflow dominated, with a cold breeze coming from the rain core. The Illawarra Hwy at this point heads W/SW before connecting to the Hume Hwy, this would take me initially further away from the storm, so instead I took the old Berrima Rd from Sutton Forest northwards. Not far along this road and water was everywhere, running off paddocks onto the road, in places it was completely across the road, but never very deep. Jane O'Neill had reported some 40-100mm per hour reflects in one of her messages. Once connected with the Hume Hwy and I was surprised that this storm was propagating in a north direction, this meant that the rear was now in no mans land west of the Hume Hwy, I struck out NE in a hope of getting to the northern flank. Very heavy rain, then pea size hail made the freeway dangerous, many cars had pulled over to wait out the hail / rain. The freeway was dangerous because of some ignorant drivers, with 50 metres visibility some people were still doing 110kph. Once through the rain curtain and disappointment, it was now anvilus maximus over and east of the freeway, the active rear end was now 20-30km to the W/NW, possibly on the Wombeyan Caves road. I pulled over at Pheasants nest at 4.00pm and sat on the grass at the petrol station and watched the rear end, it looked great but minute by minute was edging further and further north over the wilderness south of the Blue Mountains. The Bureau of Meteorology had issued a severe warning on this storm and correctly picked up on its northward propagation. Later reports said that hail large enough to damage cars had occurred at Leura on the Blue Mountains.