Severe Hailstorm, South Coast, NSW, 21st April 2000
---

Click for a larger panorama.
How many times have you seen severe storms come out of days which are poor to marginal at best. Good Friday 21st April 2000 was such a day. Dry west winds dominated the day, there was some instability shown by congestus towers popping up 100-200km offshore, but closer to land a serious lack of low level moisture was making sure things stayed benign.
This changed for the New South Wales south coast fringe when a southerly wind shift ( onshore wind ) started working its way up the coast late in the afternoon. A series of multicell storms formed on the wind shift boundary.
Just south of the scenic town of Ulladulla one of these quick moving cells gave hail large enough to damage cars and roofing.
The line of storms moved along the south coast to approximately Jervis Bay, where all activity then moved out to sea. The storms where not very high, but had formed in moderate wind shear. The anvils of the storms were obscured by the rear of the storm. On the broad scale radar at 7pm there were numerous cells offshore of the south coast.
I first noticed the storms around 4.00pm, at 4.40pm I decided to chase. Easter traffic on the Princes Hwy through Kiama was bumper to bumper with an average speed less than 30 kph ( 20 Mph ). This seriously dented any chance of catching the storms. As it was I just made the Mount Pleasant lookout south of Kiama at sunset.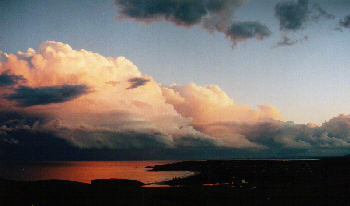 The 1000mb wind image below shows extraordinary well the surface winds. The storms were located on the coast just below 34'S, note that the surface winds converge slightly here. Notice also the moderate middle level west winds in the 500mb image.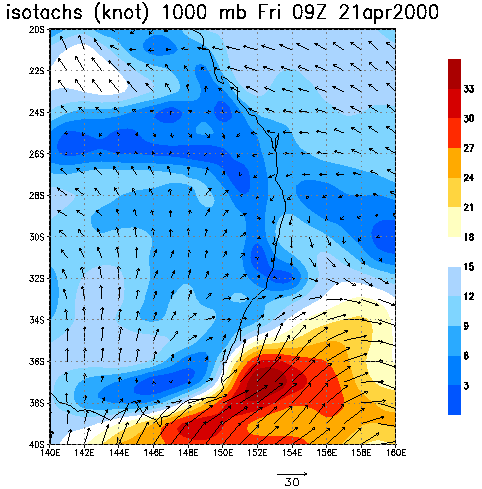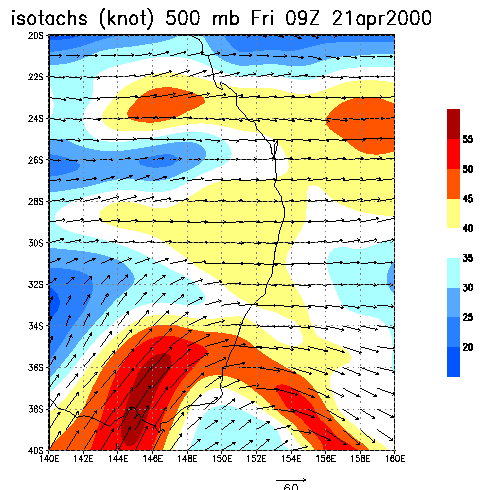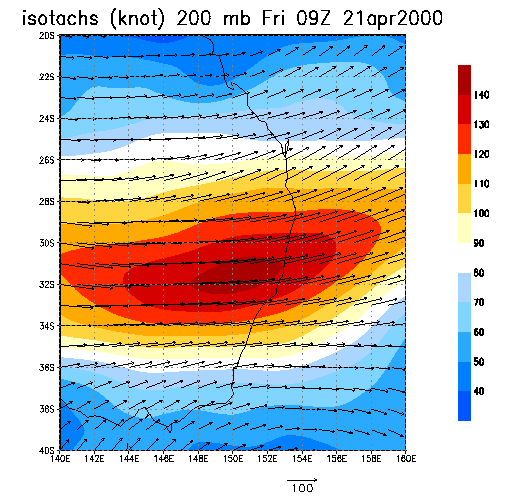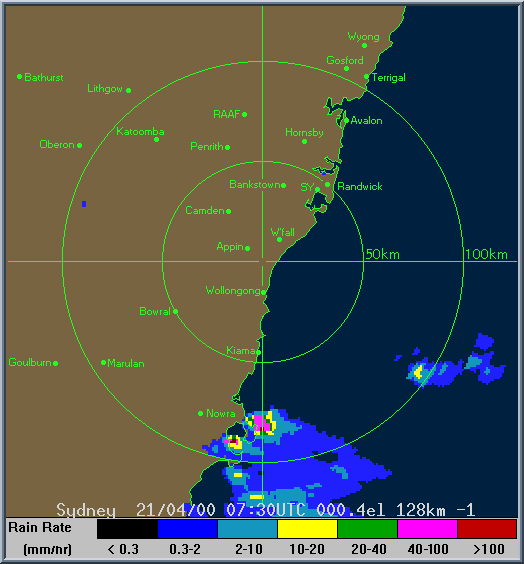 Courtesy Of Bureau of Meteorology
TOP PRIORITY FOR IMMEDIATE BROADCAST SEVERE THUNDERSTORM ADVICE BUREAU OF METEOROLOGY NEW SOUTH WALES REGIONAL OFFICE Issued at 1902 on Friday the 21st of April 2000 This advice replaces the advice issued at 1624 and now affects people in the following weather districts: Illawarra south of Wollongong South Coast north of Moruya Thunderstorms are forecast within the advice area this evening. Some of these are expected to be severe bringing large hailstones and destructive wind gusts. Hail large enough to damage cars and roofing was reported just south of Ulladulla earlier today..