Michael Thompson's Australian Storm Chase Diary
8th February 2002 - Severe storms in Illawarra
---
Click to enlarge any photo into separate window
The beginning of 2002 has been a roller coaster of weather in the Illawarra. In early January we were still in a prolonged dry spell which started in December 2001 with bushfires threatening the outlying suburbs of the city. Then came a week of relentless sapping humidity but little rain. Then finally heavy rains and cooler temperatures. Even some flash flooding. About the only thing missing was a decent storm. However a trough system that had brought rain was finally moving eastwards for the 8th February.
Today was a textbook storm scenario, pre trough cloud and rain had cleared seaward overnight. But not before giving a spectacular lightning show about 75 kms offshore the Illawarra at around 3am , with constant lightning. The morning revealed clear skies, high humidity and climbing temperatures. A trough was located about 150km westwards.
The first convection occurred down towards Canberra as the trough line passed. By 1pm cells had popped up over the Illawarra escarpment. Rock hard anvils indicated strong convection.
By 2pm a severe storm warning was in place as large hail was recorded at Robertson.
I was stuck at work so this was not a chase as such. But I did get to take a couple of photos from work.
The main feature of the storm of interest to me was the horizontal wind shear along the storms outflow boundary. The differential movement of scud from NE and a rain/hail curtain approaching was the best 180' shift I have seen butted up against each other. It was NOT a mesocyclone, but it was the strongest shear I have seen for a while.
The storm brought heavy rain but little wind to the Wollongong City centre, nut it was evident that the storm core was located about 5-10kms further south. Hail was recorded at Berkeley. A second storm developed around 4pm and was more lightning active.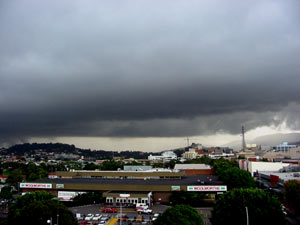 CHARTS BELOW - Wollongong is located approx where 34'S intersects the NSW coast.