Michael Thompson's Australian Storm Chase Diary
15th March 2003 - Severe storm, Lake Bathurst, Southern Tablelands,NSW
---
Click to enlarge any photo ( except video stills ) into separate window - pictures look better enlarged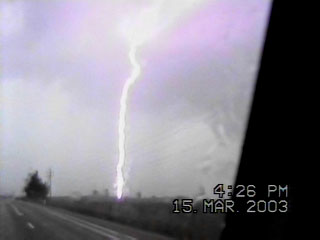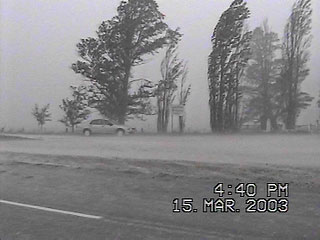 Another weekend and yet another trough system. This trough was a little bit deeper than last weekends. On the negative side moisture levels in the mid layers was high, CAP was weak in the north of the area and mid level winds were too light to sustain long lived storms.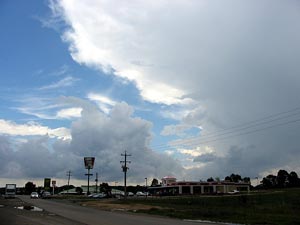 I left about 1pm for the Southern Tablelands, unlike the previous weekend there was a moderate seabreeze inversion active and temperatures at 500-600m on the tablelands were a degree or two warmer than the coast. I headed west on the Illawarra Hwy. Just west of Moss Vale I encountered the first line of weak convection. It was not an overly promising scene, very disorganised with too many small cells spreading weak anvil material everywhere. There was a SW jet at 300mb, but this early convection was not pushing that high. I kept moving westwards from the Illawarra Hwy and onto the Hume Hwy.
At Marulan another weak line of convection was encountered. However I was more optimistic with the site of blue sky and hard congestus towers further west. My instinct was telling me that a stronger CAP towards the SW was holding off early storms here.
I waiting around the Marulan area to see what would happen. About 2.30pm I noticed a stronger anvil about 100kms westwards pointing with the 300mb jet, I knew right away that stronger storms had developed now. By 3pm a large storm cell had taken up much of western sky. Its southern flank was catchable, but the rest was too far north for timely access. I started heading westwards to intercept this storm.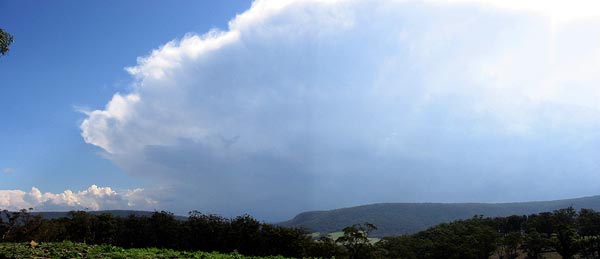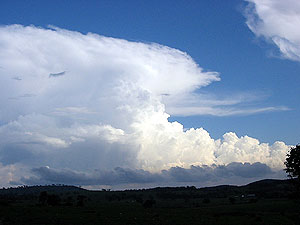 I had not traveled far towards the larger storm before a cell jumped from a weak convection line to the south. The rate at which this storm exploded took my attention. I immediately lost interest in the mature storm and concentrated on interception of the new cell which I estimated to be south and east of Goulburn.
It maintained a rain free base for the next 15 mins as I negotiated the streets of Goulburn and finally headed southwards towards Lake Bathurst.
Just south of Goulburn small and rain from the southern flank of the the larger system overtook me. The outflow was heading straight towards my new cell. When it intercepted all hell broke loose with torrential rain, small hail and strong winds. I also knew that the outflow from the larger system would effectively kill this storm too. But not before I ran through a severe stage where flash flooding occurred. Months of drought saw tons of topsoil being turned to mud and the road was cut by water in several places. The hail / rain was so heavy most other vehicles had took shelter or had stopped along the side of the road. Within about 20 mins it was all over, just another decaying anvil. Unknown to me at the time but a larger even more severe cell had developed further south, this one did not suffer from neighbouring storm outflow and lasted much longer, whether it was a supercell I do not know. My storm although severe was not.
Radar Image courtesy Bureau of Meteorology: The cell I encountered was the RED one just south of Goulburn.