Michael Thompson's Australian Storm Chase Diary
27th November 2006 - Severe storms, Northern Tablelands, NSW
All photos (except video stills ) clickable for larger size
| | |
| --- | --- |
| | |
| The first storm of the day organises near Ebor | Storm is dumping large hail |
At long last the promise of some reasonable action within a days drive. The models slowly strengthened the setup for the 27th November 2006, finally settling for CAPE values near 3000j/kg. However the day had to still struggle for early moisture and the CAP was quite strong. I targeted the Northern Tablelands of NSW. At noon near Guyra and there was hardly a scrap of cloud in the sky. Dewpoints had me concerned and the earlier NE wind (best) had swung more NW. I moved eastwards more towards Ebor hoping for the combination of higher latitude ( 1200-1300m ) and finding the seabreeze boundary. By 1pm the first cumulus developed. It was at this point I had chaser convergence with Jimmy Deguara. At around 2pm the sky exploded with a storm near Ebor. We headed east into the interesting core. We encountered some large hail to 5cm, just enough to add more dents to the car.
A 10mb video of the hail and lightning can be found here.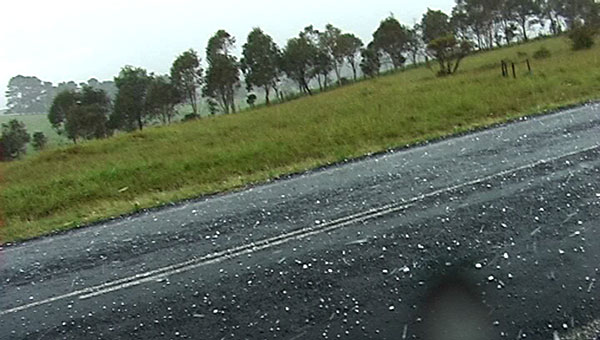 Video still: Hail near Ebor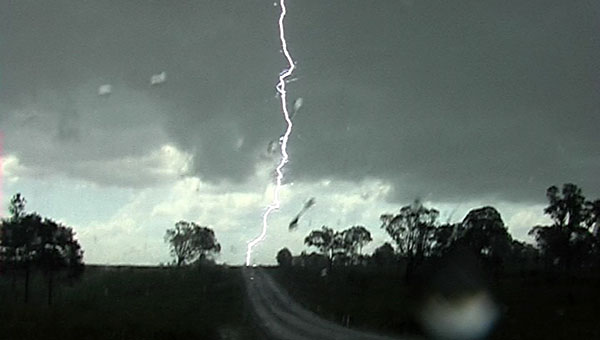 Video Still Close CG
The sat pic below shows the boundaries that we played with. The RED line is a weak dryline, separating moist NE/SE winds from drier NW/W winds. The BLUE line is a weak trough. The YELLOW dot was our location at the time this picture was taken.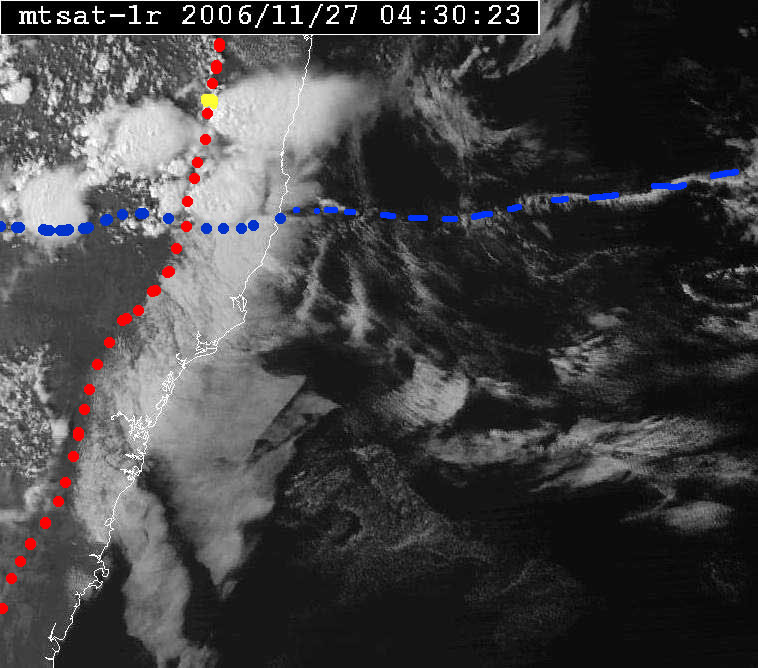 After about 15mins the scattered hail let up as the storm drifted N/NE. The road option that we had to keep in touch with the storm was limited to a minor dirt road. We took this option - the eastern most road on the tablelands. The road was very rough and at times had grass growing down the middle. Unfortunately the road finally took a more NW swing away from the storm and we headed back to the town of Glen Innes. At Glen Innes I booked into a local motel and had some dinner. Whilst eating dinner I noted the increase in lightning to the west. I went back to the motel and collected my gear for some night lightning pictures. The motel has been invaded by storm chasers with a crew of four from Victoria, and two other chasers from South Australia. After brief pleasantries I went off the photograph the lightning. The storms at Glen Innes were located west of the moist seabreeze, however outflow from earlier storms provided boundaries and a pinch of moisture to get things rolling. By 9pm all vacant sky had been filled with weak, but lightning active storms. Overnight the whole lot merged into a convective complex.
| | |
| --- | --- |
| | |
| A lower base on the seabreeze convergence | The poor road option we were faced with |
| | |
| --- | --- |
| | |
| A storm west of Glen Innes late in the day | Moisture from outflow of storms further east started to help these weaker storms |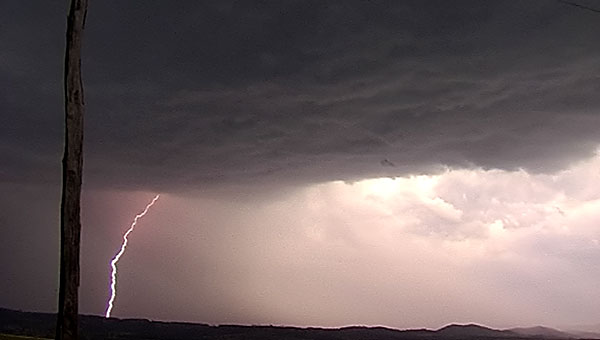 Video still: An ominous base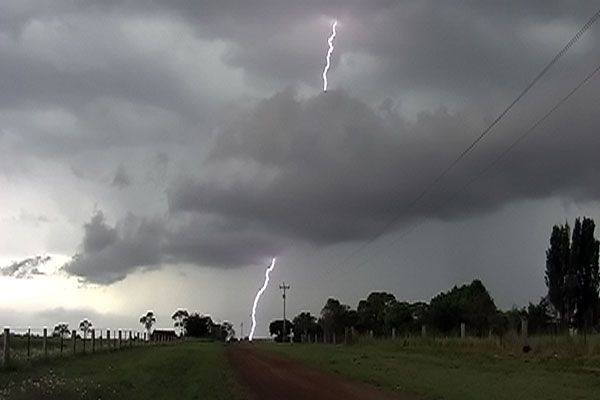 Video Still: Glen Innes