Michael Thompson's Australian Storm Chase Diary
13th - 14th December 1998 - Severe Storms.
COPYRIGHT: All photos on this and my other pages are copyright of Michael Thompson. However use for any non-profit purposes can be had in most instances by simply E Mailing first. Please note that photos have been highly compressed to aid quicker web viewing. Original prints are of better quality. .
---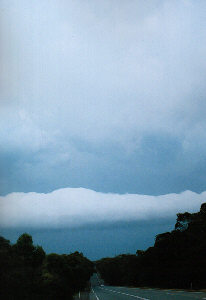 13th December 1998 - The previous two days had seen storms develop over the ranges just west of my home. Upper level winds had been light and the storms had been non-severe. The morning of 13th December saw heat building to the high 20'C ( low - mid 80F's ) in the Illawarra and to the mid 30C's ( 90-95F ) in Sydney's west, although cooler on the coast dew points and humidity were very high. Lacking however was a trigger such as a trough, and it was likely that storms would again by weak single cells. Around 11am a weak and cooler SE wind change moved along the NSW south coast, this was enough to push one of the weak storms in the Picton area to a briefly severe stage. Around 1.30pm the Bureau of Meteorology had issued a severe storm warning for the Picton area. I immediately loaded the film and camera gear and headed for the region.
About 10 kilometres from Picton my hopes were raised when a prominent gust front came into view. Unfortunately this was about as good as this chase got, the 45 minute drive had seen the storm pulse giving hail and possible downburst winds, but after that it was all over. By the time I reached the region there was a massive anvil with the odd anvil crawler, but fresh growth was lacking. Lack of upper winds meant that the anvil spread in all directions covering much of the sky, this with the fresh SE wind saw temperatures falling rapidly, killing low level convection. I attempted to follow fresher growth that had occurred on the northern outflow boundaries, but this route put me north into Sydney's SW suburbs, I soon gave up the chase as I know I would have no hope of catching anything.
However all was not lost, the SE wind change had been a cheeky little front that had sneaked up the NSW south coast ahead of a slow moving trough, located over inland southern NSW. That night storms formed on the trough line and gave quite heavy rain to parts of southern NSW. It was looking good for tomorrow.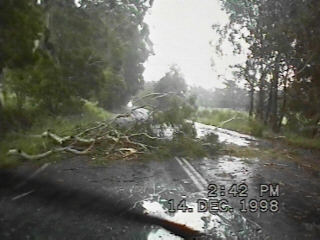 14th December 1998 - The early morning saw Castellanus cloud in a line from the NW to the SE, even by 10am congestus was beginning to spring from the line. Around 11.30pm the line cleared, giving clear skies overhead, this was not on my plans. The wind had moved back to a more humid E/NE after yesterday evenings SE wind change, and the air was hazy, with poor visibility. I would have to rely on radar images ( $$$ in Australia ) to track any potential storm development. Around 1.30pm a squall line of storms became visible on the local radar, I did a quick calculation and thought that a drive west up the infamous Macquarie Pass would intersect this line at approx Bowral in the timeframe of about 60 minutes.
The trip up the 13km ( 10 mile ) was agonisingly slow as I became stuck behind a large truck, the pass is narrow and winding allowing no chance of overtaking. At the top of the pass there was fog, the temperature at the base of the pass was 28C ( 82F ), whilst at the top it was 21.5C ( 71F ), no sea breeze inversion today ! I pulled over and took some video of the fog, I thought I heard distant thunder but dismissed it. Another 5 mins up the road and in the small town of Robertson it was very gloomy, I reasoned that the fog should have lifted by this point, I knew then that I had to be very close to the squall line, but could not see it, brief flashes of lightning through the fog were eerie. I just made it out of town when the squall hit with heavy rain, small hail and strong winds. I pulled over and got some video, it was simply too dark for still photos. CG's struck several times within a small radius of me. About 10 minutes later the rain eased and I headed west, the gust front had swept away the low cloud and fog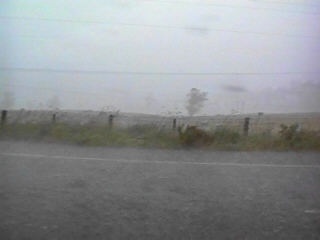 and I could at last make out storm structure. What I could see was that I was not completely out of the action yet. To the west an ominous curtain had RFD ( Rear Flank Downdraft ) written all over it, as I drove nearer I realised that this was going to be a potentially dangerous situation, even though it had stopped raining at that point all I could see about 200m (200yds ) up the road was a solid white out. I pulled over just as the wind, rain and hail hit, it was sweeping horizontally. I rolled some more video as again still photos were simply out of the question. In less than 5 minutes it was all over, except for some close CG's that were still active from the storms rear. I took a photo of a nice updraft on the southern flank. Now was an all too familiar event with storm chasing, decision time !! do I head back towards Robertson with the hope of seeing some action from the rear flank, or do I press westwards towards Bowral to get near some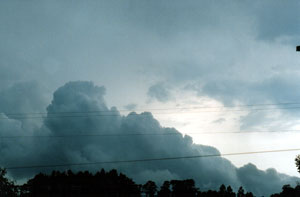 promising smaller cells that were now visible. I decided to head back east, I would then head north to Bowral. The storm was simply too quick moving, and worse, moving into an area that has no roads. I pressed on towards Bowral. Things were happening quickly, within a few kilometres another storm was developing to the west, it briefly showed signs of a small microburst. I let this storm catch up with me and followed it back towards Robertson, for a while near the small town of Kangaloon I thought that something may happen with this smaller storm, the rear flank was looking quite disturbed and some cloud tags were almost on the ground, but this storm also quickly moved away. Now the view westwards was looking quite poor, a general clearing trend was occurring. I decided to head back again to Bowral , then pick up the Hume Hwy to Picton, then back home. It was the long way around, but one that may produce another storm, fortune smiles and along the Picton Road back to Wollongong a small storm with some close CG's developed. This was the last storm for the day, the trough was now edging northwards, taking the storms to northern NSW and southern Queensland.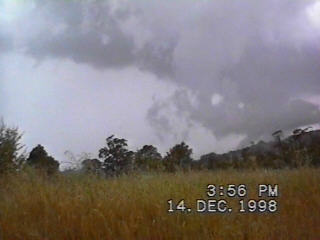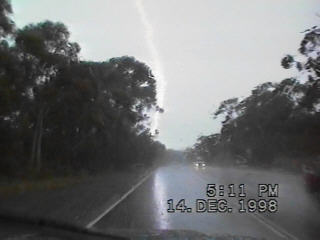 Sydney chaser David Croan's chase report of the 14th's storm can be read here.