---
Pictures without time / date can be clicked on for a larger image - thanks to Jane O'Neill for supply of some digital images
Note that some video stills are a day fast.
Day 3, 27th November 2000 - Narrabri to Glen Innes, 400km, Severe multicell storm.
STRIVING FOR HIGHER THINGS
A discussion over dinner the previous night had consensus for a move up onto the Northern Tablelands. We had the choice of two options. The first was to follow the weak surface trough onto the Northern Tablelands, this would take us away from a stronger trough that would begin building in the SW corner of the state in about 48 hours. The other option was to start heading SW to intercept the stronger trough. We were still keen to pursue the chances of storms, even if small, so we opted for the Northern Tablelands.
Today the congestus over the ranges started early and the first sparks on the AM radio started at 10.55 ( daylight saving time ). We already felt vindicated in our decision. Not wanting to burn our bridges entirely we decided to assess the situation when we got to Tamworth.
Tamworth is a small city located in a strategic position for storm chasers. Tamworth is on the plains, but at the base of the highway leading up onto the New England ranges, only an hour way. Tamworth is also a little over an hour way from the upper Hunter Valley, an east coastal river valley, usually more moist then the westward flowing river valleys. Once at Tamworth we could see that several active cells were already firing on the ranges, so we committed ourselves for the trip.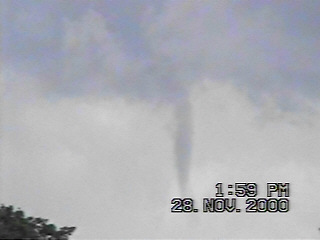 The first storms we encountered near Uralla were very weak. I must admit that I do not like the too many / too early type situation we had. None the less we witnessed a nice mid level funnel on one of the small storms. We noted that storms to the north looked stronger so we pushed onwards to Glen Innes. At Glen Innes we had one of those decisions that chasers find hard to make. To the west we had several storms growing, these storms were located 50 -80kms west, not on the plateau but the warmer but drier western slopes. To the east there was a persistent line of congestus slowly riding an advancing sea breeze. Glen Innes is about 100km inland, but the seabreeze can make it to the area by 5-6pm. Sea breezes can stabilise convection in their wake, but also initiate storms on their front.
The younger chasers wanted to head west. Clyve, myself and Jane ( the older chasers ) were still interested in the congestus line. We compromised by heading about 20km west , finding a pullover place, then watching.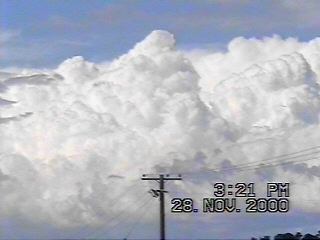 We watched for a while as the congestus began to grow then glaciate into a fair sized storm. We struck out to intercept this fresh storm. We caught the storm as it made transition to severe. In just several minutes it developed some weak shelving and then put out a gust front. We were soon overtaken by strong winds and torrential rain.
A CLOSE ENCOUNTER
We hit the road hoping to outrun the gust front, we just managed to achieve this in the main street of Glen Innes. Overhead a black rain free base was putting out some deadly CG's. One of these must have hit a telegraph pole just above our heads as our three chase cars passed. We all saw a blinding flash, then explosive bang. I saw molten sparks fall from the power pole and bounce across the road in front of me. We pulled up about 2km north of town and took some photos of the advancing storm. The congestus that gave rise to the storm rode the NE sea breeze, therefore it advanced SW, once it grew into a severe storm though, the storm propagated in a NW direction. This is not uncommon in low shear environments. Unfortunately this NW propagation eventually took the storm into inaccessible regions.
There were other severe storms that day, including one that unroofed a house at Boggabri, not far from yesterdays encounter .
MAPS AND STUFF
Todays highlight storm was encountered at Glen Innes ( 30S.152E approx). On the MSL a weak surface trough is oriented east-west, with Glen Innes near the trough line. Lift Index figures again are probably understated, but nothing exciting. The surface winds chart show that we were in a zone of very weak convergence. Like yesterday the difference in 1000hpa and 700hpa relative humidity is remarkable.