---
Pictures without time / date can be clicked on for a larger image - thanks to Jane O'Neill for supply of some digital images
Day 4, 28th November 2000 - Glen Innes to Gunnedah, 387km, Severe microbursts from multicell storms.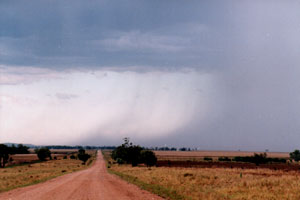 THE CHASE MOBILE
In some ways I had the best car for storm chasing in our convoy. A large heavy duty diesel 4WD. The sort of wagon you could chase on through flash floods, through mud, through anything nature could toss at us. But because of did not think the cost of one item was a priority I came to realise in a small way that I had a car that was lacking. This one essential item - ability to communicate with the other members of the chase convoy by a simple CB radio. I dearly missed that device as I could only imagine the conversations.
Today was supposed to be a repositioning day. The prognosis indicated that a high pressure ridge up the east coast would shut down action over the NE half of New South Wales. The only expected activity would be associated with a trough moving into the far SW of the state. We retraced yesterdays steps back to Tamworth. Things did indeed resemble a rest day situation, there was weak Cu, but no congestus to be seen anywhere. Once down onto the North West slopes at Tamworth we made a refuel stop, I commented to the others that I could make out congestus way off to the west and south west. There were a couple of half hearted nods of agreement, but most others were uninterested.
DO YOU SEE WHAT I SEE
This all changed just 10 mins out of town when in the far west an explosive anvil shot up over the distant Cu. I could only imagine the cheers and excited ' whoo hoos ' that must of played over the CB radio. Just in case the others missed the sight I flashed my lights and pointed frantically in the direction. I estimated that this development was 150km away and we were heading straight for it. Over the next 30 minutes the first anvil was joined by two others further south, I now knew that we had more than an isolated storm.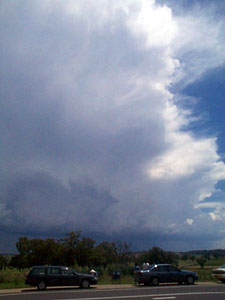 BIGFOOT COUNTRY
We finally caught the storms at the small town of Mallaley, we stopped and watched as a vigorous pulse went up in a matter of minutes, then the development of a dark rain free base, before finally a microburst situation. I remember watching a dad pull up with his kids to buy ice creams from the local store. I thought to myself that he had no idea what was about to unload on Mallaley or his car, kids and ice cream.
Horizontal rain and strong winds lasted more than 10 minutes. After it passed we attempted to follow the storm down a dirt road, we witnessed another strong microburst from this now severe storm, at one stage we estimated a rain foot that extended 3-5km out from the precipitation shaft. The road eventually became too muddy and flooded for us to follow any further and we returned to Gunnedah for the night. We later learnt that the dirt road we attempted to follow the storm on was closed to traffic due to flash flooding of local creeks.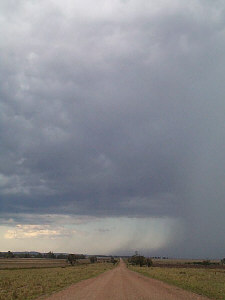 MAPS & STUFF
The MSL chart shows that the previous days trough had been swamped by ridging up the Queensland coast. The move to the south west was indeed warranted. Like the 26th November, RH from surface to about 500 hpa played a key role in the microburst situation. The storms we encountered were located near 31S, 150E.