Storm Chase Tour - Sept & Oct 98.
---
PART 2 - Some action at last, but bad timing yet again. .

The evening after the storm chasers meeting I returned home to await the recommencement of the chase tour. Conditions back in Shellharbour were quite dry, some cumulus had formed briefly further southwards, but had cleared by sunset. Around 11pm the cool change came through, just as wind change.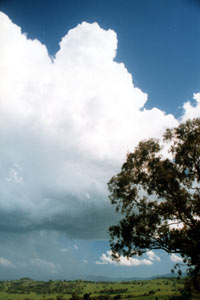 Sunday, 4th of Octocber and I was up early to do a visual check and also look at the models and charts. Visually it was going to be a great day for a family picnic, a cool south west breeze and not a cloud in the sky. At around 8am I called Jimmy Deguara, he was very excited about a line of Castellanus he could see north of Sydney. Besides hail, nothing gets Jimmy more excited than Castellanus clouds. The chase was back on. I left Wollongong and once up the road pass onto the Illawarra escarpment I could see why Jimmy was excited, to the north came into view a line of healthy Castellanus, with cumulus trying to poke through. By 10am we were at Jimmy's. Joining us this week was Clyve Herbert from Geelong in Victoria. Paul Graham was unable to go along this week. We had a very short debate on whether to take the Pacific Hwy north along the coast, or to take the New England Hwy northwards to the northern tablelands. Being school holidays and a Sunday we reckoned that the coastal highway may be a poor choice. Less than 3 hours after leaving Sydney we had caught up Castellanus line and were back into the pre-frontal air. We stopped at the town of Singleton ( received severe damage from Baseball sized hail in December 1996 ) for lunch. By 1pm cumulus towers were rising all around us. Just after 3pm we encountered a small storm near the Liverpool ranges. This storm was moving into an area not suited for chasing, with rugged mountains and dirt tracks. We learnt later that it may have developed into a severe storm. We pressed northwards to Tamworth, to the east we could just barely make out a large storm with an overshooting top, this storm had led to the issue of a severe storm warning for the mid north coast of New South Wales. We left Tamworth pressing further northwards, we wanted to get far enough ahead of the front to still get action tomorrow. Towards sunset we were still getting occasional glimpses of the storm we had encountered earlier, this storm had now matured into a decent system. We spent the night at the town of Glen Innes.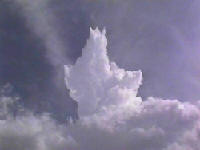 Next morning and Jimmy was excited again, Castellanus cloud again. The front had stalled and now a trough remained behind situated over northern New South Wales and south east Queensland. We decided not to make any rash decisions about where to chase, but felt better in driving just a little further up the road to Tenterfield. After a slow lunch in Tenterfield we found a high point and checked our options, a fairly decent tower was going up to the south, we dismissed this as it would drift east of the Hwy into the rugged escarpment country. Just to the southwest another healthy cumulus was just starting to glaciate, whilst to the north west a smaller cell had taken our interest as it had displayed a persistent rain shaft for over half an hour. We decided to head a little further northwards, in next few kilometres, the activity to the north west intensified rapidly. At the small town of Ballandean in Queensland we encountered heavy rain, we pulled over to look for the best road routes to take us close to this developing storm. The best option was to head along the road to the infamous Storm King Dam. About 10 kilometres along the road we exited the rain area and pulled over to get some nice photos of outflow scud being drawn into the a neighbouring updraft region.
As we took the photos we were made aware that the lightning although not overly active was all CG's close to us, this and the approaching heavy rain curtain made us move again. Another 5 minutes and we were at Storm King Dam itself, the storm had now intensified and we could see hail falling from the rear. No sooner had we pulled over an exited our cars a CG flashed and then a cannon blast of thunder, I do not know how close it was, but it is only the second time in my life that I have heard thunder echo off nearby objects, in this case the initial crack was followed milli seconds later by several staggered echoes off the nearby tree trunks. We took some quick video and photos and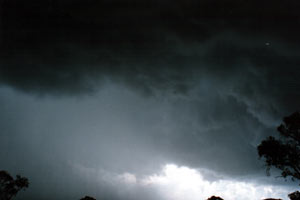 headed for the safety of the cars. Luckily the main hail shaft went just west of us, along with the strongest wind, none the less we experienced torrential rain. Eventually we decided that we would have to move if we wanted to get out of the core. As we drove hail started falling and some stones bordered on 2cm ( 1inch ) diameter. Rain become that heavy at one stage that we simply had to pull over as we could not see a thing. Back on the road again and just 5 minutes down the road we suddenly broke out of the rain and onto dry surface. We had a nice view of the storm from here and observed a highly back sheared anvil. We also noted the hail shaft to the south east, that somehow we had managed to avoid.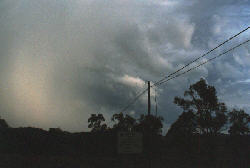 It was now near sunset so we drove back to Stanthorpe and stayed the night. There was also another very weak storm that evening, we tried for some lightning photos but the activity was simply too little. That night we eagerly tuned into the forecasts, eagerly because we were all aware of a strong front that would rapidly sweep across eastern Australia tomorrow, even affecting as far north as the tropic of Capricorn.
Next morning was high and middle layer cloud heaven, not what four storm hungry chasers had in mind. We went and checked the internet from the local library, it looked poor, the front was moving very rapidly and basically had bulldozed yesterdays weak trough line away. Dry air from the continents interior was being drawn down ahead of this front. The general group prognosis was that any pre frontal storms would be unlikely, but a squall line storm would be possible later that evening. That is pretty much how it panned out, a weak storm accompanied the cold front at around 11pm with some rain, but basically it was a flop.
Next morning and another debate, we could see Jimmy's pet cloud, Castellanus on the far northern horizon, the weather reports indicated that afternoon storms were possible around Bundaberg, about 200kms south of the Tropic of Capricorn, this was at lest five hours drive and it would be a one day event as the front would stabilise Queensland weather the next day. Instead we decided to drift back towards home over the next two days.
One week later and at least three supercells and a confirmed tornado occurred in the very area we left. Had our chase commenced one week later we would have avoided ' the Death ridge from Hell ' , received this weeks action, plus the supercells.
---
COPYRIGHT: All photos on this and my other pages are copyright of Michael Thompson. However use for any non-profit purposes can be had in most instances by simply E Mailing first.