HAIL & KNOWN HAIL STORMS
Note - this page is well out of date and is due to be updated...eventually
---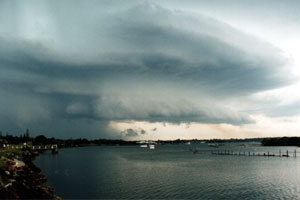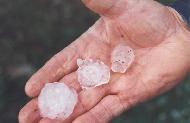 16th November 1997 - A severe hailstorm that caused $3 million in damage. Damage was from a series of downbursts, one can be seen occurring in the second photo.
(Yamba, New South Wales)
A full chase report and several more photos can be read here.
---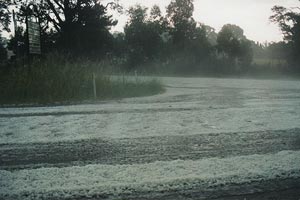 11th December 1996 - An unplanned storm chase on the southern highlands of New South Wales. This day experienced several severe storms in eastern NSW, the most severe being about 200 kilometres north at Singleton, where baseball size hail fell. This storm was far less severe with hail about 1inch in diameter. However, the fall was very heavy causing road problems.
A full chase report of this storm can be read on my chase page.
---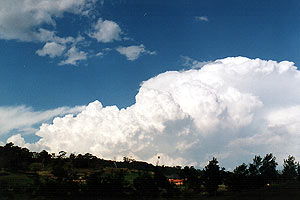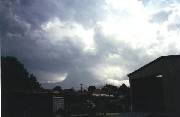 23rd March 1997 - Severe storms developed on the southern highlands and Illawarra coast. Golf ball size hail fell from another storm this day. This produced smaller non damaging hail. More significantly a severe storm later in the day produced a funnel.
Photos of the funnel can be seen on my chase page.
---